Mitsubishi Lancer Owners Manual
Rear window demister switch
The rear window demister switch can be operated when the engine is running.
Push the switch to turn on the rear window demister.
It will be turned off automatically in about 20 minutes. To turn off the demister within about 20 minutes, push the switch again.
The indication lamp (A) will illuminate while the demister is on.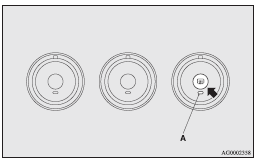 Note
► If your vehicle is equipped with heated mirrors, when the rear window demister switch is pressed, the outside rear-view mirrors are defogged or defrosted. Refer to "Heated mirror".
► The demister switch is not to melt snow but to clear mist. Remove snow before use of the demister switch.
► When cleaning the inside of the rear window, use a soft cloth and wipe gently along the heater wires, being careful not to damage the wires.
► Do not allow objects to touch the inside of the rear window glass, damaged or broken wires may result.










© 2023 www.mitsuguide.com. All Rights Reserved.