Mitsubishi Lancer Owners Manual
Steering wheel lock
[For vehicles equipped with keyless operation system]
For information on operations for vehicles equipped with the keyless operation system, refer to "Keyless operation system: Steering wheel lock" on pages 1-15, 1-19.
[Except vehicles equipped with keyless operation system]
To lock
Remove the key at the "LOCK" position.
Turn the steering wheel until it is locked.
To unlock
Turn the key to the "ACC" position while moving the steering wheel slightly right and left.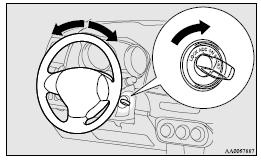 Caution
► Remove the key when leaving the vehicle.
In some countries, it is prohibited to leave the key in the vehicle when parked.










© 2023 www.mitsuguide.com. All Rights Reserved.