Mitsubishi Lancer Owners Manual
Manual transmission
The shift pattern is shown on the gearshift lever knob. During start-up, fully depress the clutch pedal and shift into 1st gear or "R" (Reverse) position.
Then gradually release the clutch pedal while depressing the accelerator pedal.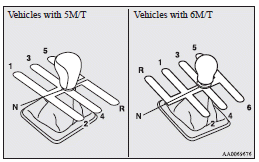 Caution
► Do not move the gearshift lever into reverse while the vehicle is moving forward;
doing so will damage the transmission.
► Do not rest your foot on the clutch pedal while driving as this will cause premature clutch wear or damage.
► Do not coast in the "N" (Neutral) position.
► Do not use the gearshift lever as a handrest, because this can result in premature wear of the transmission shift forks.

Note
► During cold weather, shifting may be difficult until the transmission lubricant has warmed up. This is normal and not harmful to the transmission.
► If it is hard to shift into 1st, depress the clutch pedal again; the shift will then be easier to make.










© 2023 www.mitsuguide.com. All Rights Reserved.