Mitsubishi Lancer Owners Manual
To remove
Turn the pole (A) anticlockwise.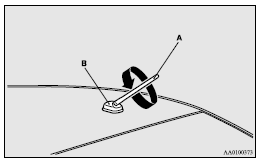 To install
Screw the pole (A) clockwise into the base (B) until it is securely retained.

Note
► Be sure to remove the roof antenna in the following cases:
• When using an automatic car wash.
• When placing a car cover over the vehicle.
• When driving into a structure that has a low ceiling.










© 2023 www.mitsuguide.com. All Rights Reserved.