Mitsubishi Lancer Owners Manual
Catalytic converter
For ordinary use, there are no particular precautions except that of using unleaded petrol.
The exhaust gas scavenging devices used with the catalytic converter are extremely efficient for the reduction of noxious gases. The catalytic converter is installed in the exhaust system.
It is important to keep the engine properly tuned to ensure proper catalyst operation and prevent possible catalyst damage.

Warning
► As with any vehicle, do not park or operate this vehicle in areas where combustible materials such as dry grass or leaves can come in contact with a hot exhaust since a fire could occur.
► Paint should not be applied to the catalytic converter.

Note
► In case of the petrol-powered vehicles, use UNLEADED PETROL ONLY of the type recommended in "Fuel selection" on page 02.

Caution
► For petrol-powered vehicles equipped with turbocharger, to avoid the risk of being burned, do not touch the air outlet (A) and air scoop (B) on the bonnet when the engine compartment is hot (when the engine is running or immediately after the vehicle has been driven).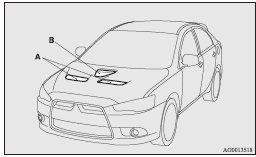 To open
1. Pull the release lever towards you to unlock the bonnet.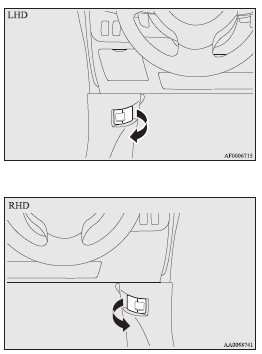 2. Raise the bonnet while pressing the safety lock.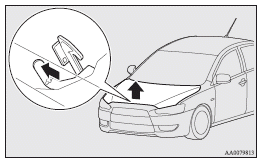 Note
► Only open the bonnet when the wipers are in the parked position. In any other position, the wipers could damage the paint or bonnet.
3. Support the bonnet by inserting the support bar in its slot.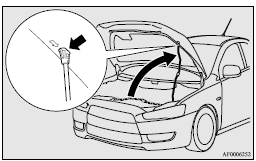 Caution
► Note that the support bar may disengage the bonnet if the open bonnet is lifted by a strong wind.
► After inserting the support bar into the slot, make sure the bar supports the bonnet securely from falling down on to your head or body.
To close
1. Unlatch the support bar and clip it in its holder.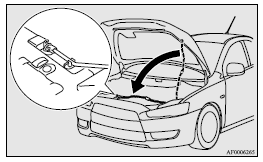 2. Slowly lower the bonnet to a position about 20 cm above the closed position, then let it drop.
3. Make sure the bonnet is securely locked by softly lifting the centre of the bonnet.

Caution
► Be careful that hands or fingers are not trapped when closing the bonnet.
► Before driving, make sure that the bonnet is securely locked. An incompletely locked bonnet can suddenly open while driving. This can be extremely dangerous.

Note
► If this does not close the bonnet, release it from a slightly higher position.
► Do not press down the bonnet hard with a hand as it may damage the bonnet.
► For vehicles equipped with the security alarm system or the Auto Stop & Go (AS&G) system, if you drive with the bonnet left open, the warning display is displayed on the information screen in the multi-information display.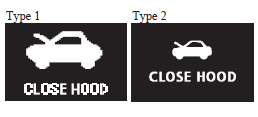 © 2023 www.mitsuguide.com. All Rights Reserved.