Mitsubishi Lancer Owners Manual
Power steering fluid
To check the fluid level
Check the fluid level in the reservoir while the engine is idling.
Check to make certain that the power steering fluid level is always between the "MAX" and "MIN" level markings on the fluid reservoir and top up the fluid, if necessary.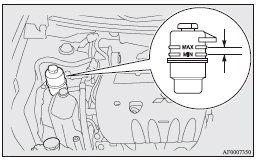 Fluid type
Use "Genuine MITSUBISHI Power Steering Fluid" or "ATF DEXRON III/DEXRON II".










© 2023 www.mitsuguide.com. All Rights Reserved.