Mitsubishi Lancer Owners Manual
Vehicle information code plate
The vehicle information code plate is located as shown in the illustration.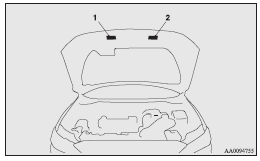 1- Except for vehicles with turbocharger
2- Vehicles with turbocharger
The plate shows model code, engine model, transmission model and body colour code, etc.
Please use this number when ordering replacement parts.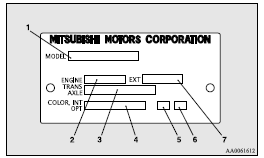 1- Model code
2- Engine model code
3- Transmission model code
4- Body colour code
5- Interior code
6- Option code
7- Exterior code










© 2023 www.mitsuguide.com. All Rights Reserved.