Mitsubishi Lancer Owners Manual
Child-protection rear doors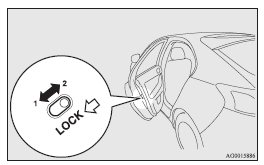 1- Lock
2- Unlock
Child protection helps prevent the rear doors from being opened accidentally from the inside.
If the lever is set to the locked position, the rear door cannot be opened using the inside handle, but only with the outside handle.
If the lever is set to the "Unlock" position, the child protection mechanism does not function.

Caution
► When driving with a child in the rear seat, please use the child protection to prevent accidental door opening which may cause an accident.










© 2023 www.mitsuguide.com. All Rights Reserved.